Real Fusion Window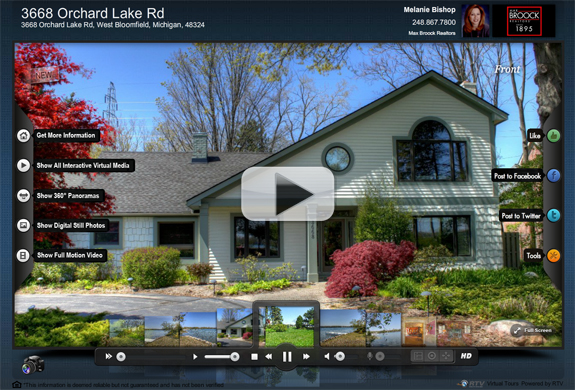 Real Fusion is a collaboration of over 1,750 virtual tour dealers across the US and more than a decade of experience. With our partner RTV, we deliver the most powerful Virtual Tour, Real Estate Marketing system on the market today! We now can deliver to our clients full 360° Panoramas, full motion video, and high quality digital still photos in one dynamic player. This system is packed with more real estate marketing pieces than any other system on the market today! See the descriptions of just some of them below:
| | |
| --- | --- |
| E-Brochure – Getting an email with a virtual tour on it is one thing, but getting a beautifully organized and well laid out E-Brochure is an experience all on its own. Anytime you use the send-to-friend feature in RealTour Fusion, the system will ask you whether or not you would like to send a plain e-mail with a link to the tour or the more robust E-Brochure. | Lead Grabber – Our new Lead Grabber feature is one of FOUR ways in which your interactive virtual tours from Real Vision Studio send you leads. When enabled our lead generation tools collect the visitors information from your virtual tours and notify you via email. From there you can simply login and download your leads. Be sure to ask us about all four of our lead generation tools next time you talk to us! |
| Agent ToolBox – Your Agent Toolbox is one of our favorite features that we've brought to you. You're now able to login, change tour status banners, make price changes, mark listings as sold, order more tours, snag your leads, setup your customers to receive your weekly hit reports, print off your flyers, download images, edit preferences and so much more. You're going to love how easy it is manage your virtual tours and marketing tools from a single login. | Gyro Enabled Mobile Tour – Real Fusion tours are smart. Very smart! To ensure maximum compatibility and exposure a mobile compatible version of your virtual tour will automatically be delivered to viewers using a web enabled device. Furthermore, we track your mobile hits and QR code scans and send them to your hit report each week. Have a gyro enabled phone or device? Even better! Pan, tilt and move interactively through panoramas and scenes within virtual tours by steering your device in the direction that you would like to navigate. That's certain to leave them talking about you! Our new Tour2QR feature even shows you how many people scan your QR Code with a mobile device. |
| Weekly Reports / Deep Stats – If you've been with us for a few years you've come to love our powerful weekly hit reporting system. Real Fusion new virtual tours take traffic reporting to the next level by providing you with more data than ever before. We now feature a full break down by day, month, quarter, and year. We also show truly unique and returning visitors. See the number of times your virtual tour has been emailed, downloaded, shared on social sites, viewed on a mobile phone, and sent to friends as well as, the number of times various tools on the virtual tour are used. | Full Motion Video – You've been asking for video enabled virtual tours for the last year and we've listened to you. Our virtual tours support full motion video. You can now enhance your listings with short video clips with our new "Real Fusion Experience" tour. This full featured tour showcases things like wind blowing through trees, water gardens, bubbling hot tubs, boats zipping along the lake, wildlife, and of course you're even able to get in front of our camera and introduce the listing. Be sure to ask us about our new full motion video support in our Experience Tour. |
| AudioPal – Real Fusion's new Auto Voice is the cost effective voicing solution to enhance your virtual tour with a natural sounding male or female voice. Now your tours can be narrated for a fraction of the cost. | Image Delivery Engine 2.0 – Our new Image Delivery Engine is even better than before, higher quality still photos for print and even the panoramas are delivered to you along with your virtual tour links. Also from the Agent ToolBox you can send them to your client from you, simply check the box next to the Image Delivery Engine and Real Fusion will also send your client a link to download the high resolution images along with the virtual tour links. |
| Double Agent – The Real Fusion player is all setup for the listings you have co-listed with another agent or team. Watch as our player elegantly fades in and out from one agent to the next, displaying each individuals contact information and photo. | Status Banners – We have created status banners that are displayed in the upper left hand corner of the virtual tour window, create an 'air of excitement' about your listings. You are able to login to Fusion system and mark your tours as NEW, SOLD, PRICE REDUCED, SALE PENDING and even more. |
| TinyTURLS – We also will supply you with smaller, more manageable Tour URL's with TinyTURLS. All TinyTURLS begin with www.TinyTURLS.com/ Use our TinyTURLS when you're looking to save space in any of your print ads, in MLS systems that require shorter URL's, or when tweeting a tour. | Tours2RSS – With our NEW Real Fusion system we can provide you with a RSS feed to AutoBlog your virtual tours on your favorite WordPress, Blogger or other blog so you don't have to lift a finger. As soon as we publish your virtual tour the RSS feed will send it to your blog. You can even setup a HotSheet that will e-mail your virtual tours out to your database. Simply pair your feed up with Aweber or your favorite e-mail management system. |
| TourVibes – TourVibes allow for instant feedback from your interactive virtual tour. Simply turn on TourVibes and start collecting contact information, comments and more, from your tour viewers. TourVibes writes back to your database and keeps a downloadable log for importing into your favorite CRM. TourVibes is a MUST try for lead generation brought to you by Real Fusion. | Gorgeous Flyers! You loved our flyers before and now Real Fusion gives you even more amazing, elegant looking printable flyers. Our new flyers come with our Exposure Engine, have your QR Code and online virtual tour link added and make you look better than ever before! You can even login into your agent Toolbox and make changes to your flyer. |
| Follow This Tour – Follow This Tour is used on the back end of all four Fusion lead generators. Anytime a tour viewer looks for more information they will have the opportunity to "Follow This Tour"; once clicked, the system will ask the user to input basic contact information. The Fusion tour engine then sends that user updates as changes occur to the virtual tour such as Status Banner changes, price changes, and more. Follow This Tour WILL drive more traffic to your online tours than ever before. Now that's social! | Map Widget – The Real Fusion Map Widget is by far one of the best features found in the Real Fusion system. We will supply you with a snippet of code that you can add to your web site and it will display a Google map with all you Real Fusion virtual tours loaded on it. Users can come to your website and search your Fusion Map Widget based on location, tour type (tags), price and any other criteria that is loaded into your virtual tour. |
Download a copy of our Real Fusion Window information packet.